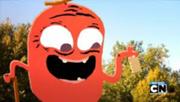 Bert is a minor character in The Amazing World of Gumball. He is an old man who is occasionally seen around Elmore.
Appearance
He looks like a short, red wrinkled bean. He wears a little brown hat and walks with a cane. He also has only three teeth and overly large eyes with brown pupils.
Personality
Bert is a senior citizen who is usually is seen with the rest of the Old Men. He seems to be quite energetic for an old man.
Episode Appearances
Ad blocker interference detected!
Wikia is a free-to-use site that makes money from advertising. We have a modified experience for viewers using ad blockers

Wikia is not accessible if you've made further modifications. Remove the custom ad blocker rule(s) and the page will load as expected.