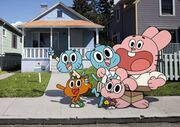 The Wattersons are the main characters in the series, Houseters Gumball. They are the neighbors of The Robinsons except Rocky. Despite being a tight family, they are known to have very serious arguments at times (as shown in The Family Battle.)
Overview
The Watterson family is quite unusual; they consist of two rabbits, two cats, and a goldfish. Gumball and Nicole are both blue cats, while Anais and Richard are both pink rabbits. Darwin is a goldfish and was originally the family pet until he grew legs, gained the ability to speak, and became able to eat food other than fish flakes. Darwin is also the only family member who is not a cat or a rabbit. A grandfather was mentioned in The Lost Darwin. Then there is Granny Jojo, a pink rabbit, who is their grandma on Richard's side.
Members
Ad blocker interference detected!
Wikia is a free-to-use site that makes money from advertising. We have a modified experience for viewers using ad blockers

Wikia is not accessible if you've made further modifications. Remove the custom ad blocker rule(s) and the page will load as expected.